ESO Witches Festival 2023 Guide: Rewards and Activities
Welcome to the Elder Scrolls Online Witches Festival Guide for 2023! The Witches Festival has been a part of ESO since 2016 and typically runs from mid to late October. The best part? It's included in the base game, so you don't need any DLCs or ESO Plus to enjoy all the unique rewards and event tickets. This guide we'll cover all you need to know about the Witches Festival, including double XP, unique styles, pet acquisition, event tickets, and much more.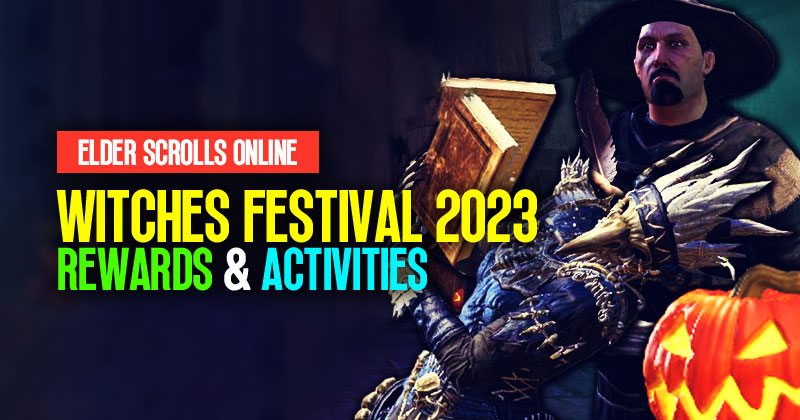 ↖ Getting Started
To begin your festival journey, you'll first need to complete the quest "Witchmother's Bargain." Here's how to get started:
↖ The Witchmother's Whistle
Use the Witchmother's Whistle Memento to summon the Witchmother's Cauldron. This will grant you and your party a powerful two-hour 100% XP buff, which stacks with other XP bonuses. While in this area, you'll also have the option to drink from the cauldron, temporarily transforming into a skeleton.
If you've previously completed the quest in other events, you don't need to acquire the Crow Caller or complete the quest again. Open your memento collection, go to tools, and use the Witchmother's Whistle Memento.
↖ Plunder Skulls and Dremora Plunder Skulls
During the event, all boss monsters will drop unique Plunder Skulls and Dremora Plunder Skulls, filled with exciting Witches Festival themed loot:
Plunder Skulls May Contain:
Witches Festival Furnishing Recipes
Witches Festival Furnishings
Witches Festival Provisioning Recipes
Various Creepy Crawlies
Various Crafting Materials
In addition to regular Plunder Skulls, you can acquire Dremora Plunder Skulls. The first one you receive each day from each type of boss contains all the same items as a regular Plunder Skull but also includes a Dremora Motif page based on the boss type you defeated.
Here's where you can find Dremora Motif pages:
Dragonstar Arena, Maelstrom Arena, Blackrose Prison Arena, or Vateshran Arena bosses drop Dremora Motif pages for Bows and Legs.
Dark Anchor, Geyser Bosses, Dragons, and Harrowstorms drop Dremora Motif pages for Daggers and Gloves.
Delve Bosses drop Dremora Motif pages for Staves and Belts.
Group Dungeon final bosses drop Dremora Motif pages for Helmets and Maces.
Public Dungeon and Quest Bosses drop Dremora Motif pages for Shields and Boots.
Final Trial Bosses drop Dremora Motif pages for Swords and Chests.
World Bosses drop Dremora Motif pages for Shoulders and Axes.
Dremora Plunder Skulls may also contain additional rewards such as Grave Dancer Style Pages, Witches Festival Writs, Glenmoril Treasure Maps, or runeboxes with more collectibles.
Witches Festival Writs work similarly to Master Writs and can be traded, mailed, and sold. Complete 13 Witches Festival Writs to earn the Witch's Infernal Hat, and 28 Witches Festival Writs to earn the title "Witch." Completing these writs also gives you a chance to find Hollowjack Style pages.
↖ New Additions in 2023
This year, you'll find new items inside Dremora Plunder Skulls, including:
Tome of Forbidden Appetites Memento
Crowborne Hunter Armor Style - check out a showcase video linked in the description.
Ghost Netch Pet - Collect and combine ten possessed shreds to unlock this adorable companion.
↖ Daily Repeatable Quest
In 2021, ESO introduced a daily repeatable Witches Festival Quest called Plucking the Crow. Here's how to get started:
Start the quest at the Impresario's tents or inside Olyve's Brewery.
Gather 50 cursed feathers by opening any Plunder Skulls.
Return to Olyve's Brewery and follow the instructions to use the portal to fight and defeat the Crowborne Horror.
Completing this quest rewards you with three Plunder Skulls.
↖ Exorcised Coven Cottage
During the Witches Festival, you have the opportunity to purchase a unique house, the Exorcised Coven Cottage. You can buy it via the Crown Store or for 250,000 gold if you've unlocked the An Unsparing Harvest achievement. This spooky and cozy little cottage is located in Glenumbra and is only available during the festival.
↖ Achievements and Titles
By completing all achievements related to the Witches Festival, you can unlock the Sun's Dusk Reaper title. You can also earn Event Tickets during the festival. You'll receive 2 Event Tickets per day per account by defeating any boss monster in the Elder Scrolls Online. These bosses can be from quests, delves, dolmens, world bosses, trials, and more.
↖ Impresario Event Merchant
The Impresario Event Merchant opens her store during the Witches Festival and offers a wide range of goodies, including:
Passion Dancer Blossom Fragments
Hoardhunter Ursauk Mount fragments
Witches Festival themed furnishings
Witches Grab Bags
Crowborne Hunter Style pages
Tome of Forbidden Appetites Memento
Ghost Netch Pet
↖ Witches Grab Bags
Several rewards from previous Witches Festivals that can no longer be found in Plunder Skulls are now available in Witches Grab Bags, which you can purchase for 2 Event Tickets from the Impresario Event Merchant. These bags may contain:
Fragments for the Throwing Bones Memento
Apple Bobbing Cauldron Memento
Skeletal Marionette Memento
Hollowjack Spectre Mask
Pumpkin Spectre Mask
Scarecrow Spectre Mask
Thicketman Spectre Mask
Marshmallow Toasty Treat Emote
Witch's Bonfire Dust Memento
Bonedust Pigments for the Witch-Tames Bear Dog
Ghastly Visitation Memento
Bound Style Pages for the Witchmother's Servant Style
↖ Indrik Vendor
During the Witches Festival, the Indrik Vendor opens her shop and offers:
Nascent Indrik Feathers
Pure Snow Indrik Berries
Crimson Indrik Berries
Frost-Light Indrik Pet
Rosethorn Indrik Pet
↖ Philius Dormier's Shop
Philius Dormier, the Impresario's Assistant, also opens his shop during the festival and offers:
Unstable Morpholith Pet Fragments
Dagonic Quasigriff Mount Fragments
That's all you need to know to make the most of the Witches Festival in ESO 2023. Have a fantastic time collecting loot, completing quests, and enjoying the spooky festivities. Don't forget to like, subscribe, or leave a comment, and until next time, have a spook-tacular day!
Most Popular Posts
Popular Category Lists