Which ones Are Worth Farming in FFXIV's Moogle Treasure Trove Mendacity Rewards?
Are you ready for another Moogle Treasure Trove Mendacity event in Final Fantasy XIV? This event allows players to earn moogle tombstones by rerunning all the content marked in the duty finder for a limited time. These tombstones can be exchanged for various items at vendors in capital cities. However, not all items are worth farming. In this guide, we will discuss the top items that are worth your time and provide previews of what they look like.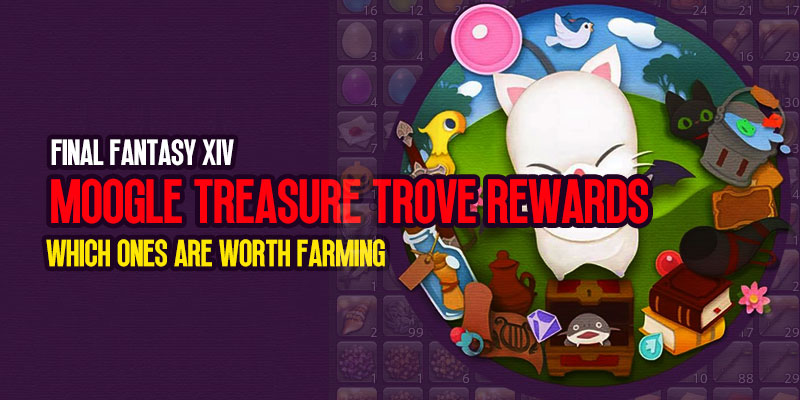 ↖ Porxie Earrings
Porxie Earrings are the most expensive item during this event, costing 100 tombstones. However, they have questionable fashion value and might not be worth the price. Nonetheless, there's no alternative way of getting these, so if you want them, you'll have to farm them out using the tombstones.
↖ Magitek Predator Identification Key
Magitek Predator Identification Key is a mount that costs 50 tombstones and lets you summon the Magitek Predator. This mount is a rare drop during the last fight in the level 70 dungeon, Ala Mhigo, and has a low drop rate. Therefore, spending 50 tombstones on this item is a fair price.
Ixion Clarion
Ixion Clarion is an item that can be used to add the mount Ixion to your collection, which looks pretty badass. It costs 50 tombstones, but there are three other ways of getting them. You could buy it using a gold certificate of commendation from Wondrous Tails, which is not advisable.
Alternatively, you could get it by farming 404 leaves from Unreal Trials or by using the fat method. The fat method involves buying Ixion Horns from Ashina in Rhalgr's Reach for 12 horns each. You can then use the horns to buy Ixion from Ashina. A discord server like Philia can help you get Ixion Horns easily.
↖ Megalotragus Horn
The Megalotragus Horn is another mount that costs 50 tombstones and lets you summon the Megalotragus. This mount is tradable and available on the market board for under 1 million Gil. Alternatively, it can also be bought in the Firmament for 8400 Skybuilder Scrips. If you don't have this mount yet, it might be a good time to buy it for tombstones to save yourself FF14 gil or to farm it out in the Firmament through crafting or gathering.
↖ A Long Fall Orchestrion Roll
A Long Fall Orchestrion Roll is a music roll that costs 50 tombstones and plays the song from the Twinning Dungeon, which is a certified banger. This music roll can be obtained in the Twinning and also from silver sacks and Eureka authors. However, it is tradable, and it's actually super cheap on the market board right now, going for between 20,000 and 50,000 gil. Therefore, it's better to buy it with gil than spending tombstones on this item.
↖ Modern Aesthetics - Gyr Abanian Plait
Modern Aesthetics - Gyr Abanian Plait is a tradable haircut that you can find on the market board for a fairly high price, between 1 and 2 million gil or as a drop from silver halo sacks inside Heaven-on-High. The drop rate seems fairly low, so if you don't have this already, spending the 50 tombstones on this item is a good idea.
↖ Ballroom Etiquette - Emphatic Elucidation
This item is slashed insistent and can be bought for 1,800 sky builder scripts in the Firmament or bought on the market board for between 100,000 and 300,000 gil, depending on the server. It is worth the investment, as the item can be used for level 80 treasure maps that feature a guaranteed portal at the end, unlike regular maps. You can complete these with up to 8 other players, and they have a chance of dropping expensive items such as unique crafting materials or collectables.
↖ Qiqirn Earrings
These earrings cost 30 tomes or, alternatively, can be dropped from a notorious monster, Fate, called Metal Gears Revengeance 2. You can sign up for the reward fate and complete it once to get the earrings. If you want to avoid going through the hassle of doing it via fates, spending 30 tomes isn't too expensive, and it's not an awful buy.
↖ Other Mounts
The Laura Gubu and Alps are both mounts that are relatively easy to get. The Laura Gubu is a reward for maxing out your reputation with the Sylphs by doing daily quests. You can purchase it for 120,000 gil at the end of the quests. If you don't plan on unlocking the vendors for anything else, spending 30 tomes on this mount is a great idea, as it saves you from doing dailies and 120,000 gil. The same is true for the Alps, which is the reward for maxing your reputation with the Sahagan tribe. Both of the tribes' daily quests will be linked in the description.
↖ Matzo
You can obtain various mounts by running extreme trials unsynced. To do that, you need to have a max-level character and then go up to the Duty Finder, click the little wheel, and select Unrestricted Duty. This allows you to enter low-level trials on the current level of your character, which allows you to solo all the content.
The mounts you can obtain this way are Python, White Lanner, Demonic Lanner, Reveling Kamuy, and Blissful Kamuy. The only exception here is the Mountain Nightmare, which is a random drop from The Howling Eye, The Navel, and The Bowl of Amber's Extreme. The drop rate is lower than that for the other mounts, but many people have reported getting it fairly quickly. However, it's better to farm it via tomes instead.
↖ MGP Platinum Card
The MGP Platinum Card gives you 50,000 MGP in the Gold Saucer for the price of 30 tomes. If you don't like farming MGP in the saucer, this could be worth farming out a bunch of these, especially if you find a way to farm MGP easily, with Blue Mage, for example, as a friend of mine did, getting absolutely capped on MGP in the process. This is a great way to save many hours of doing jumping puzzles and never having to go back to the Gold Saucer at all. However, be warned that you will spend many hours doing some random dungeon or trial on Blue Mage.
↖ Furniture
The furniture rewards offered during the event are not worth purchasing. Many of these items, such as the floor, sofa, red brick, kitchen nomad, stand oriental wooden deck, swag, valance, homemade cookie set, and floors counter, can be easily purchased on the market board for a minimal amount of Gil. Therefore, it is better to save your Moogle tombstones for other, more valuable rewards.
↖ Bonewicca Set
The Bonewicca gear set is obtained from chests dropped in the Swallow's Compass dungeon. These gear pieces are primarily used for glamour and are not the most attractive. Therefore, it is recommended to try them on first at the vendor before purchasing them with your Moogle tombstones.
↖ Riding Maps
The riding maps do not provide any significant advantages to your character's mobility, making them only worth purchasing if you are a collector.
↖ Triple Triad Cards
The triple triad card rewards can be challenging to obtain, but some are worth purchasing during the event. For instance, the Gaelicat card is easily obtainable by beating Nose and Old Grania. However, the Vanuano card may require some effort to obtain and may be worth purchasing with Moogle tombstones. The Biako and Prometheus cards have a low drop rate and can be more easily obtained by purchasing them during the event.
↖ Minions
The Wind-up Succubus minion is an easy buy for anyone who still needs it. This minion typically costs 500 Allied Seals from hunts. However, if you do a lot of hunts, you may already have it. The Black Hayate minion is a drop obtained from a dungeon home Insta switch.
↖ Orchestrion Rolls
The Faded Copy of Fibers of Her Being orchestrion roll is a valuable reward that can be purchased with Moogle tombstones. The role typically sells for between thirty thousand and fifty thousand gil. The Seven Tones roll is also an acceptable reward if you still need to unlock the Surfac vendor by completing self-dailies. The Peace of Mind or Question roll can be purchased for three copper gills from the Vaststick Padova vendor. The Silph and Bath currencies can be obtained by completing daily quests. If you have previously completed these dailies, you likely have these currencies already.
↖ Magic Prism
Lastly, the Magic Prism reward is not worth purchasing with your Moogle tombstones.
Conclusion:
The Moogle Treasure Trove event in Final Fantasy XIV offers various rewards in exchange for Moogle tombstones that are earned by rerunning content marked in the duty finder for a limited time. The top items worth farming during this event are the Magitek Predator Identification Key, Ixion Clarion, Megalotragus Horn, and Ballroom Etiquette - Emphatic Elucidation. Some items, such as A Long Fall Orchestrion Roll, are cheaper to buy on the market board, while others, like Modern Aesthetics - Gyr Abanian Plait, are better purchased with tombstones. Overall, it's a great opportunity to earn rare items and mounts, as well as save gil and time.
Most Popular Posts
Popular Category Lists