New World Patch 3.0.1 Update: MSQ Fixes and Ankh Artifact Adjustments
New World's highly anticipated Patch 3.0.1 is finally here, and it brings some substantial changes to the game. In this guide, we'll dive into the key highlights of this patch, focusing on the pivotal MSQ fixes and the adjustments to the Ankh artifact. The first is the resolution of major issues within the MSQ, and the second major change involves a significant nerf to the Ankh artifact.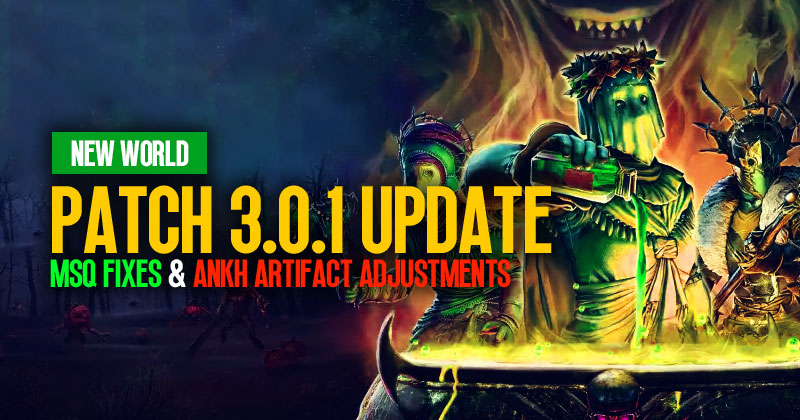 ↖ Patch Release and Notes
Patch 3.0.1 was set to release late at night (Pacific Time) or early morning (UK and EU) and will be available for a limited time, ending on November 14th. In addition to the MSQ fixes and Ankh nerf, there are numerous other notes, but we'll focus on the most impactful changes in this guide.
↖ Major Story Quest (MSQ) Fixes
One of the most awaited changes in this patch is the resolution of issues plaguing the Main Story Quest. Players have encountered multiple obstacles that have prevented them from progressing. Some of the key issues addressed include:
T4 Azo Staff Fix: The T4 Azo staff, a weapon that had been causing problems for players, has now been fixed.
Plague for All Factions: The Plague quest for all factions is being addressed and fixed.
Friend in Need: The Friend in Need quest, another source of frustration, is also on the list for fixes.
Abducted Artificer and Tracking the Herd: A conflict involving the Abducted Artificer and Tracking the Herd quests will be resolved, making MSQ progression smoother for players.
While these fixes come a bit late, they are a welcome change, and players can now look forward to a more streamlined MSQ experience. It's essential to ensure that these fixes do not introduce new issuese.
↖ The Ankh Artifact Adjustments
The widely utilized Ankh artifact receives significant balancing. Both positive and negative healing will now be adjusted from the original 50% to 25%. This change comes in light of certain overpowering combinations players have reported, creating an imbalance.
↖ Notable Game Mechanic Changes
Outpost Rush: A fix has been applied that prevented players from taking damage behind the Outpost Rush Gates and halted repairs.
Unyielding Helm Artifact: A perk alteration is designed to be more user-friendly, ensuring players can benefit more from it.
Attuned Leather Pants: A display error regarding stats has been addressed, ensuring a more accurate representation.
↖ Economic and Progression Shifts
Cooking Aptitude: It can now yield bananas as a possible reward.
Furnishing Aptitude: A previous omission of trophy mats has now been included, ensuring players get what they deserve.
Jewelry Stats: Some jewelry pieces had excessively high stats. This has been rectified to bring balance.
Dark Matter Adjustments: Invasions now reward players with Dark Matter. Amount varies based on the outcome (win/lose) and player level.
↖ Dungeon Loot and Quality of Life Fixes
Many players reported issues with loot quality in dungeons, particularly in the Depths. While there have been fixes to certain AI dropping incorrect gear, comprehensive solutions regarding loot quality are anticipated.
Note: While the artifact is widely called "Ankh", its pronunciation is still debated among players. Let's avoid the "Pronounced onk" debates and focus on the gameplay!
Conclusion:
New World Patch 3.0.1 brings significant improvements to the game, especially in the form of MSQ fixes and the Ankh nerf. These changes aim to provide a more balanced and enjoyable gaming experience for players. Additionally, various other tweaks and fixes have been implemented to enhance the overall gameplay. It's a promising update that reflects the developers' commitment to enhancing New World.
Most Popular Posts
Popular Category Lists